Best European Script Award till "We got this"!
Vi är så otroligt stolta att Best European Script Awards har gått till "We got this". Ett stort grattis till Schiaffino Musarra och alla inblandade!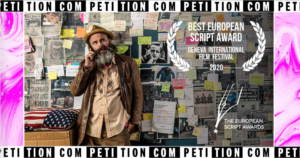 WINNER 
 The European Script Award is awarded to the series "We Got This"
The jury unanimously awarded the European Script Award to We Got This, a series co-written and performed by Schiaffino Musarra. The jury praised the radical originality of this series, based on a surprising main character and theme.
Endowed with 10'000 EUR and awarded by the European Alliance for Television and Culture (EATC), the European Script Award was presented to GIFF for the first time this year. Despite the cancellation of the 26th edition, the jury, composed of Nicolas Dufour (CH), Elena Hazanov (RU-CH) and Raphaël Nieuwjaer (FR), deliberated online to determine the winner of the prize among three pre-selected series : We Got This, Grow, Hide and Seek.